When it comes to paper documents, there are stages in our work processes that prevent us from being able to file things right away. As a result, we end up dealing with large stacks of documents that need to be kept together.
This can be easily done by using Kleer-Fax's Bundle Bands, which are Made in the USA and built to last.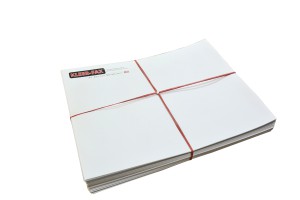 What is a Bundle Band?
Bundle Bands are 4-way rubber bands that come in 4 different sizes and colors.
For those who don't think they need the additional support Bundle Bands offer, please see this video.
We also offer a small assorted pack.
How Long do They Last?
A typical rubber band will be good for 1 year. Bundle Bands are made of archival rubber, giving them a usable life expectancy of 5 years.
This means that accountants and lawyers who want to file their documents while keeping them bundled can do so knowing that when it's okay to shred them, they will still be maintained as they had been years earlier.
While Bundle Bands are not made of recycled materials, the level of quality saves on many tons of raw materials because the longevity they offer means that less rubber has to be used in order to replace them.